Welcome to the Ipswitch WebVAR Program. We are pleased to offer your organization the opportunity to join us in our successful - try it and buy it - sales process. See the links below to get started selling our award winning products from your web site today!
Program Overview | Getting Started | Product Pages | Banners & Buttons
We make it easy to launch your own web-based sales program by giving you access to our "private labeled" WebVAR Referral System to capture sales leads, offer evaluation downloads and implement ecommerce on the Web.
Key features of the WebVAR Referral System include:
Customized WWW Pages: We give you product web pages, banner ads, and gif images for installation on your web site.

Evaluation Software: Links from your site call our ftp servers to provide your customers evaluation copies of our software.

Auto Lead Generation: We send you email with sales lead information entered during the evaluation download registration.

Referral Fees: When your customers are ready to buy, they link from your site to our ecommerce server for download purchase. You receive referral fees for all completed sales.

All of the above comes private labeled with your company's name so the customer sees these features as an extension of your web site with no links to external web pages.
This WebVAR Marketing Kit provides the tools you need to install the WebVAR Referral System on your web site. This section describes how the system works and steps to implement the system on you web site.
How It Works
This kit has been customized for your organization and contains product web pages and banner & buttons to be incorporated on your web site.
These pages and graphics come already customized with special URLs that link to pages on the Ipswitch operated WebVAR Referral System. These special URLs contain information unique to your organization and must be formatted properly for you to get the full benefits of the program. For example:
https://buy.Ipswitch.com/cgi-ole/buypro.showform/wsftppro/?000001882Clones+Plus,+Inc.
Where the number 000001882 is your organization's unique WebVAR account number and Clones+Plus,+Inc. is your organization's name. (NOTE: Special Characters like the plus sign (+) are needed for the URL but will not be visible on the web pages)
Other parts of the URL specify the different functions to be performed by the system. In the example above, the URL points to the WS_FTP Pro download purchase form on our server. A diagram of the three primary functions in the system is shown below:
Three WebVAR Referral System Functions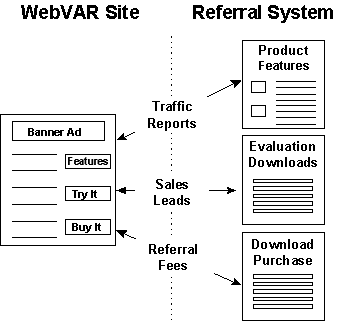 Product Features: Customers access detail product information web pages which allows tracking of hits and maintains linkage back to your site..
Evaluation Downloads: Registration forms capture customer contact information which is automatically emailed to your designated mailbox.
Download Purchase: Forms process transactions and deliver software to the customer for which you are paid a referral fee.
Implementation Steps
This section provides recommended steps to implement the WebVAR Referral System on your web site. The following is a list of steps you may follow during implementation.
Site Planning: Taking time to think through your web design and how you intend to direct users to the try it and buy it sales process. Keep in mind that you want to make it easy to download evaluation copies of the software and to capture impulse buys via ecommerce.


Page Design: We have deliberately designed the web pages to be as generic as possible to make it easier to merge them with the look and feel of your site. You will need to tailor the content of our product web pages to match the look and feel and navigation tools of your site.


Page Installation: You may use the supplied web pages intact or cut and past content into your pages. Be sure to keep the specially formatted links intact so we can give you full credit for all referrals. All pages use basic HTML with tables and GIF images only. You do not need to know cgi programming to implement this system.


Lead Follow-up: You will receive automatic emails for all customers who download evaluation copies of the software or make a purchase through ecommerce. You must maintain a valid email address and assign responsibility for follow-up on leads to gain full benefits from the program.


Fax Order Form: Included in the kit is a pre-formatted web page (order.html) to facilitate ordering by customer who have concerns about sending confidential information over the Internet. In order to use this form you must order hard good products from TechData (US), Kubota (Japan), or Ipswitch (Other International). Visit the WebVAR Support Site (see below) for information on ordering and the latest distribution updates. IMPORTANT If you do not want to use this form please remove all links to it from the WebVAR Product Pages in your kit!

First, review and modify the forms to include your company information (fax number, 800 order line, name and address, and email addresses) and product selection, by default all products are listed, but you only have to sell the products you want to sell. Next, add any tax items specific to your business or location. Finally, modify the shipping cost table to reflect your chosen shipping options and charges.

Customers can print the form, complete the required information and fax or mail it to your order processing department.



Site Promotion: Even the best designed web site will fail if it does not attract customer traffic. We highly recommend registering your web pages on the top search sites listed below.

Remember, it takes time for some search engines to add your site to their index; be patient, but persistent. When you have new pages, don't wait for the sites to notice - submit them immediately. Do searches for keywords that apply to your site. Are you at the top of the list? If not, check out the sites that are at the top and see what they're doing that you're not.
In addition to the WebVAR Referral System, your program membership gives you these additional features:
WebVAR Support Site: Access to our private WebVAR support site for information on products, downloadable sales materials, marketing events and ongoing WebVAR updates. Just point your browser to http://www.Ipswitch.com/webvar and enter User id: webvar and Password: sales.

Channel Distribution: We are committed to making it easy for WebVARs to purchase our products through their preferred distribution channels like Tech Data Corporation in the U.S. and Kubota Corporation in Japan. Visit the WebVAR Support Site (see above) for information on ordering and the latest distribution updates.

Technical Support: Access to comprehensive technical support from initial qualifying to after-sale support to ensure the highest quality of product support for your customers. For pre-sales support email: evalhelp@Ipswitch.com. For after-sales support email: support@Ipswitch.com or call (781) 676-5700.

Not For Resale Kit: Opportunity to purchase a full production set of our award winning software at a greatly reduced, not-for-resale, price of $495 - a savings of over $1,600. To order your not-for-resale kit call Ipswitch at (781) 676-5700.

Training Seminars: As a part of our distribution agreement with TechData Corporation, training on Ipswitch products will be available at various Tech Data training centers nationwide.
It is expected that each organizations implementation will be tailored to their specific situation and opportunities. We look forward to your creative solutions as we work in partnership together. If you have any questions regarding the WebVAR Program or Referral System send email to: webvar@Ipswitch.com or call (781) 676-5700.